Description

Technical Data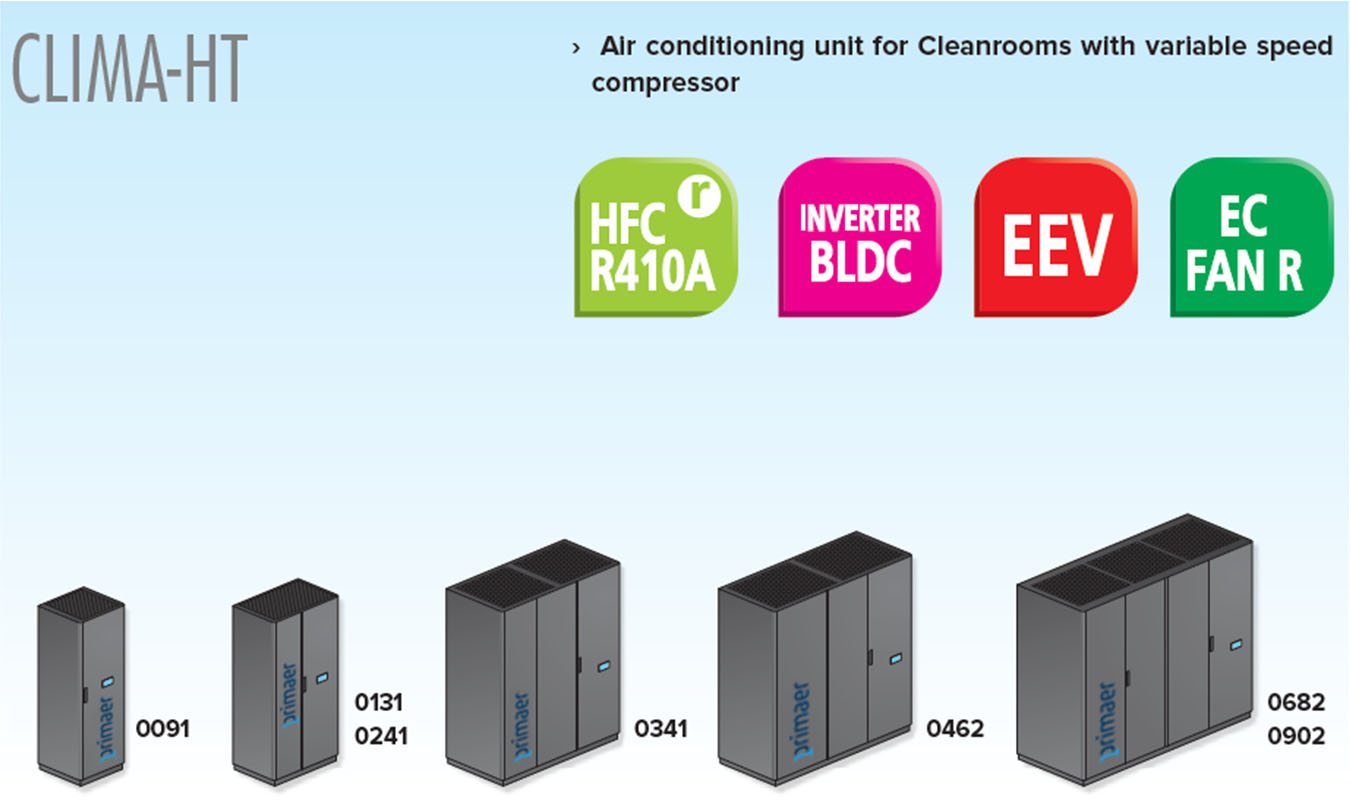 Function Diagram
Microprocessor controls
Climate-HT series units are equipped with specific control
software developed on the basis of experience gained over the years in the production of Cleanrooms, to meet the needs of different industrial sectors. It is a truly integrated system that allows total control of all the Cleanroom parameters, including those typical of the air conditioner, such as:
Temperature
Humidity
Airflow
Ambient pressure
Clogged pre-filters and HEPA filters
The PLC is equipped with an interface that allows managing, via
Modbus, up to 100 Filter Fan Units (FFU) series AIR-1 and HT-AIR10-ML, normally used for room air circulation. Of each unit the
system monitors:
Start / Stop.
State / alarm.
Set operating point.
Class.
Operating mode (normal / reduced).
The application also allows you to:
Display the alarms detected in their acoustic signal by means of the buzzer;
The display of all set sizes;
The management of the data logger;
The remote control of all parameters via web interface to any user in charge of the Cleanroom controls./li>
Standard Features
Unit with variable speed BLDC compressor;
Continuous modulation of the cooling capacity;
Environmentally friendly refrigerant R410A;
Fans with reverse blades and EC series motors;
Electric expansion valve electronically control;
Programmable microprocessor control with LCD display;
Drain pan made of stainless steel AISI 403;
Painted RAL 7016 panels and rounded edges;
Painted interior panels;
Finned battery pack with hydrophilic treatment;
Airflow Sensor;
G4 class air filter;
Room temperature and pressure sensors;
Front access for maintenance / control of components even with the unit running;
Technical compartment separate from the airflow;
Automatic switches load protection;
Rotalock connections for ease of installation;
New design of the external panels with flathead screws of thesame colour as the structure and special foam gasket seals to ensure maximum tightness.
Optional accessories
Automatic control of the airflow and the display;
Dehumidification with humidity sensor;
Humidifier with immersed electrodes;
Humidifier with immersed electrodes, drain pump and cylinder that can be inspected;
Electric heaters;
Post-heating systems:
› Hot water coil with modulating valve;
› Hot gas battery with regulation;
› PRECISE – Hot gas battery with the modulation of the coolant flow.
Flood, fire, smoke, additional T and humidity sensors;
Module H500 Base;
Base frame;
Servo-controlled dampers for Base Module for the automatic adjustment of the ambient pressure;
Air distribution plenum (horizontal or vertical);
Serial cards for protocols: Carel / Modbus / LonWorks / Trend;
HIWEB Hardware: Ethernet card for protocols: BACnet / SNMP;
HIWEB Software: Ethernet card for Web connectivity;
Touch-Screen colour graphic display.